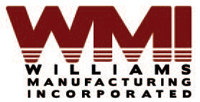 Our inaugural Platinum Sponsor is WMI — Williams Manufacturing Incorporated, a minority-owned professional machine shop, specializing in CNC production machining and weld fabrication with expertise in TIG/MIG welding and the repair of investment castings.
---
On July 27, 2013, an anonymous Gold Sponsor from Washington state contributed $2,500 to FTI.
Thank you!
---
---
BECOME A SPONSOR
FTI believes that all children should have a stress-free, loving HOME in which to dwell, with a carefree childhood. It is our prayer that with the help of our friends, our church, and our community we can make a difference in the lives of the children we aim to support.
Becoming a sponsor is easy. Everyone is welcomed to participate. We encourage you to join us in helping to build a community that is supportive and equipped to save our children.
Because we are a non-profit, tax-exempt, self-supporting organization, your sponsorship is tax-deductible.
We have four levels of sponsorship available, but whatever you can do is greatly appreciated.
Platinum Sponsor - $5,000
Silver Sponsor - $1,000
Gold Sponsor - $2,500
Bronze Sponsor - $500
All sponsors will have their logo and a link to their website (if available) placed on our Sponsor page.
Gold and Platinum sponsors will have their logo displayed on the home page.
Your ongoing sponsorship allows FTI to:
Create and maintain a safe living environment for our youth
Generate effective programs to assist them in their transition
Provide ongoing medical attention, counseling, and spiritual guidance
Raise awareness within the community about this overwhelming problem
---
We offer two ways to become a sponsor — by check or by an online donation via PayPal.
Check
If you are mailing a check, make it payable to "Freedom Track International." Be sure to include "Sponsorship" on the memo line of the check.
Mail the check to:
Freedom Track International
PO Box 3186
Clackamas, OR, 97015

Also, please remember to include an address, so a receipt can be mailed to you for your records.
PayPal
If you would like to make your Sponsorship payment via PayPal, please choose the level of sponsorship below and click on the image (you will be brought to PayPal for a secure transaction).
Platinum Sponsor - $5,000

Silver Sponsor - $1,000

Gold Sponsor - $2,500

Bronze Sponsor - $500